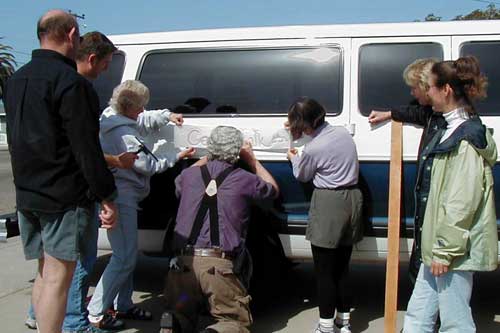 Grover Beach (April 27, 2003) A pivotal step in insuring the success of the Coastal Trail Expedition 2003 was the purchase of a 1997 Dodge 15-passenger van. In excellent condition, it would provide the wheels to allow our feet to walk the state. Volunteer and Coastwalk Board member Mel Savage from Orange County will be our driver for the duration.
There are 10 permanent walkers. Our van allows 4 extra hikers to join us for shorter sections of the coast. Even before the trip began, Mel was busy making sure the van was properly fitted out. Squeezing up to 15 people and all their gear into one van makes for very cozy living. Mel had a large roof rack custom built for gear storage to give us a little more room. Coastwalk already owns a small cargo trailer and a heavy duty trailer hitch was installed so that this trailer could be used. The trailer will provide additional storage and also has been converted to provide full kitchen facilities.
All of the walkers who met at Grover Beach for an organizational meeting knew the walk was a reality as the Coastwalk logo and contact information decals were applied to the sides of our van.