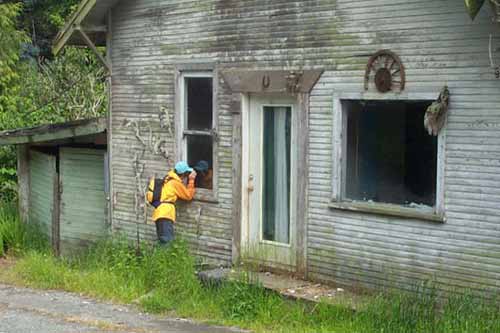 June 6: Del Norte County – On! to the mouth of the KIamath River.  12 Miles.
Our day's hike begins in a magnificent redwood forest shrouded in fog.  We descend and ascend through steep drainages.  
The redwoods above are seining the fog, extracting its moisture for their own use. Some of that moisture is absorbed by the vegetation above but much falls to the ground, and on us, in large drops. Everywhere one looks the view is vertically challenging. The trees rise high, to neck-craning heights. They stand so resolute and straight; mute testimony to ages past.
Below the trail is verdant. We walk through chest-high ferns and bracken, salmon and huckleberry. Often the greenness around us is punctuated by bursts of color of the rhododendron. One rhododendron grows from the top of an old burnt redwood snag looking like a Fourth of July sparkler.
 We walk on, the moist overgrown trail soaking our boots.  It is not without some cost.  By the time we are back on the beach at False Klamath Cove, we the hikers — have acquired several blisters from wet socks and one twisted ankle.  Time for all of us to dry our feet, put on new socks, and have lunch.
 All morning we have been walking east of Highway 101.  Now we are finally west of it with the ocean to our immediate right.  We ascend to avoid the impassible coast below and after several miles are given a magnificent view of the coast south to Patrick's Point.  Continuing on we soon can see the mouth of the Klamath River below.  Here we must leave the trail and walk down into Requa on the Requa Road. For the first time we are forced to don our orange safety vests.
Upon arriving at the Klamath River we are picked up by a river boat and transported across. Along the way we pass by swimming sea lions and view a pair of golden eagles perched on the branches of a snag on the sandbar. Two ospreys clutching fish fly overhead.
Finally on the south side of the Klamath, we walk to Kamp Klamath. Arron Funk, the owner, treats us royally with a spring-run Chinook-salmon dinner. Barbequed with his special ( and secret ) sauce, it puts the tired hikers back into a good mood. (Jon)